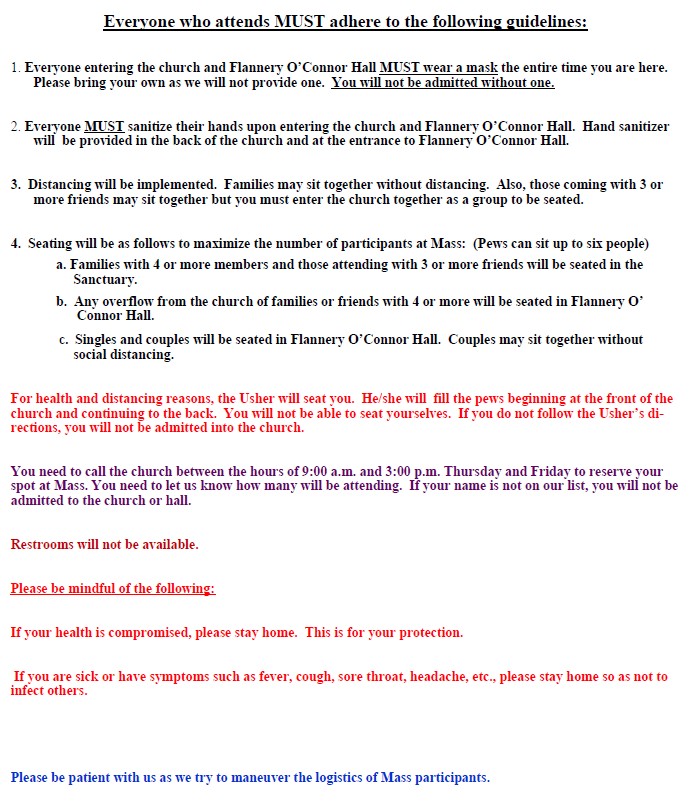 Just want to clarify that the 10:00 mass is live stream only. No in pew service at that time.

If we have a large attendance this week, Father will add another in pew mass on Sunday so
letís try to fill those church pews and the seats in Flannery OíConnor Hall.

Holy Communion will be distributed at the end of Mass starting with the back pews, alternating sides, and you are to receive by hand only.


This Sunday, June 28th, the Mass will be live streamed at 10:00 a.m.
In person Mass will again be at 12:00 Noon by reservation only. This past Sunday we had 50 parishioners attend Mass. We could have accommodated more but itís a start.

Beginning July 5th, the Sunday Mass schedule will be as follows:

9:00 a.m. In Person Mass (by reservation only)

11:15 a.m. Live Stream Mass

Hope to see more of you this Sunday.


UPDATE FROM THE ARCHDIOCESE:

The Archbishop firmly prays and hopes that this period of restricted activity will be used as an occasion for all in the Archdiocese of Atlanta to nurture their relationship to Jesus Christ through personal prayer, devotions, spiritual reading and attendance at Holy Mass and adoration for those who can attend safely. He does, however, extend the period during which persons with health reasons or concerns are dispensed from the Sunday obligation, now through Sunday, August 1, 2020. He continues to urge all who are sick or suspect any threat of sickness to attend Mass virtually via the many online and televised options available.